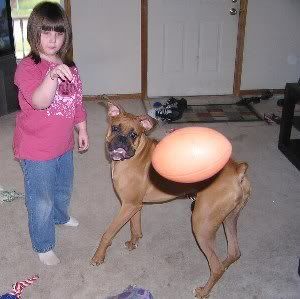 Wow, what a weekend I had. Sunday was my first birthday. Mommy invited over my cousin Rocky! He came over and had bananna pupcakes. He brought Grandma, Samantha, Jennifer, and Alexa with him. I love Alexa. She is so much fun. She played tug and fetch with me all day. Grandma brought toys with her. I got a squeaky chicken leg! To quote Hanna Banana it's "mega wicked awesome!" Mommy got me new toys too, but not a squeaky chicken leg. I will have to show you a picture. It is so cool. We also got new dog beds for my birthday. The are so comfy. I almost like sleeping on my new bed more than I like sleeping with mom and dad. Don't tell them that though.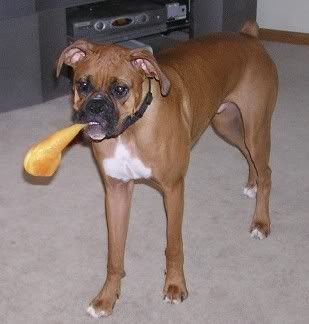 Yesterday was mommy and daddy's two year anniversary.They went to dinner at the restaurant down the street. I wanted to go too, but they said they don't allow doggies there. Oh well, I didn't like them anyway.
Even more exciting is that yesterday was Martin Luther King Jr. Day. I don't know who he is, but because of him mommy had the day off work! She hung out with us almost all day! She did leave to go to lunch with daddy, but when she came home she had more new toys. I think she has more toys that she is hiding somewhere too. Why does she hold out on me like that? Maybe I will have to search for these toys today.
Layla gets to start a new training class in a couple weeks. I am jealous because I like going to training. Mommy said that I am better behaved than Layla and that is why she is going to training class and not me. That is so true, but I still want to go to class. I will get to go back soon. Mommy said I am going to earn my CGC. That sounds like fun. Well, I'm out! -T