Guess what... I turned 3 last week. It was awesome. I got new toys and mommy made me birfday pupcakes again. Aunt Jess got me a doughnut toy for at home and an octopus. Mommy let me go to PetSmart and pick out my own toys. I decided to get a frog that makes crazy noises and a snowman. I like all of my new toys, but not as much as I like my jolly ball or the turtle mommy got me for Christmas. Daddy said we are running out of room in the toy box and that I don't need anymore toys. My solution to that is to get a bigger toy box. Of course I need more toys.
It is just Layla, Chi Chi and I now. Harley and I couldn't get along, so he has a new family. Mommy said he has kids and cats now. That sounds like a lot of fun to me. She talks to Harley's new mommy on the computer a bunch to keep tabs on him. Layla and don't fight like Harley and I did, so I guess it's a good thing.
The daycare just celebrated its first year in business. Mommy and Aunt Jess were pretty excited about it. I will post some pictures to show you how awesome daycare really is. I am off to nap now.
-T
This is Norah. She and her brother Rudi come in a couple times per week.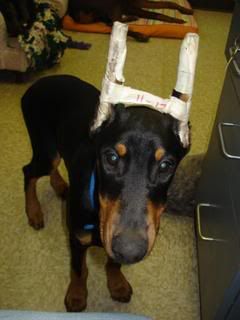 Shaka has been coming in since he was 9 weeks old. He is over 1 year now.
Daisy and Hudson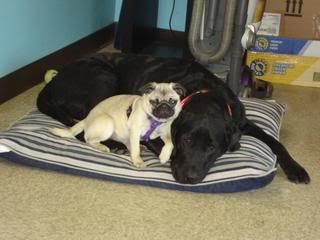 My sister Layla
This is Rosie. She comes in for daycare and lives down the street from us.
Finally, Layla and Riley at the end of a long day.